Puzzle 428 H2N2 Flu Design Puzzle 2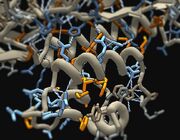 | | | | | | | | | |
| --- | --- | --- | --- | --- | --- | --- | --- | --- |
| | start | | AD | | FoldRNA | | Mark | |
| 264 | R | Arginine | R | Arginine | R | Arginine | R | Arginine |
| 265 | P | Proline | P | Proline | P | Proline | P | Proline |
| 266 | W | Tryptophan | W | Tryptophan | W | Tryptophan | W | Tryptophan |
| 267 | G | Glycine | R | Arginine | R | Arginine | R | Arginine |
| 268 | F | Phenylalanine | L | Leucine | F | Phenylalanine | M | Methionine |
| 269 | S | Serine | M | Methionine | S | Serine | M | Methionine |
| 270 | E | Glutamic acid | E | Glutamic acid | E | Glutamic acid | E | Glutamic Acid |
| 271 | N | Asparagine | D | Aspartic acid | D | Aspartic acid | D | Aspartate |
| 272 | L | Leucine | W | Tryptophan | A | Alanine | E | Glutamic Acid |
| 273 | A | Alanine | G | Glycine | M | Methionine | G | Glycine |
| 274 | F | Phenylalanine | F | Phenylalanine | F | Phenylalanine | F | Phenylalanine |
| 275 | E | Glutamic acid | K | Lysine | E | Glutamic acid | R | Arginine |
| 276 | L | Leucine | L | Leucine | H | Histidine | Y | Tyrosine |
| 277 | A | Alanine | A | Alanine | A | Alanine | A | Alanine |
| 278 | L | Leucine | L | Leucine | L | Leucine | L | Leucine |
| 279 | S | Serine | E | Glutamic acid | E | Glutamic acid | E | Glutamic Acid |
| 280 | F | Phenylalanine | F | Phenylalanine | F | Phenylalanine | F | Phenylalanine |
| 281 | T | Threonine | R | Arginine | M | Methionine | M | Methionine |
| 282 | N | Asparagine | D | Aspartic acid | T | Threonine | D | Aspartate |
| 283 | K | Lysine | E | Glutamic acid | S | Serine | E | Glutamic Acid |
| 284 | D | Aspartic acid | N | Asparagine | S | Serine | N | Asparagine |
| 285 | T | Threonine | R | Arginine | R | Arginine | R | Arginine |
| 286 | P | Proline | P | Proline | P | Proline | P | Proline |
| 287 | D | Aspartic acid | N | Asparagine | N | Asparagine | N | Asparagine |
| 288 | R | Arginine | R | Arginine | R | Arginine | R | Arginine |
| 289 | W | Tryptophan | F | Phenylalanine | F | Phenylalanine | F | Phenylalanine |
| 290 | A | Alanine | K | Lysine | K | Lysine | K | Lysine |
| 291 | K | Lysine | E | Glutamic acid | E | Glutamic acid | E | Glutamic Acid |
| 292 | V | Valine | I | Isoleucine | I | Isoleucine | I | Isoleucine |
| 293 | A | Alanine | A | Alanine | A | Alanine | A | Alanine |
| 294 | Q | Glutamine | K | Lysine | K | Lysine | K | Lysine |
| 295 | Y | Tyrosine | F | Phenylalanine | M | Methionine | Y | Tyrosine |
| 296 | V | Valine | V | Valine | V | Valine | V | Valine |
| 297 | S | Serine | K | Lysine | K | Lysine | K | Lysine |
Team foldeRNA has shared a public recipe "428 foldeRNA set aa v2" which will set the aa sequence to match the highest scoring sequence Team foldeRNA is using.
Ad blocker interference detected!
Wikia is a free-to-use site that makes money from advertising. We have a modified experience for viewers using ad blockers

Wikia is not accessible if you've made further modifications. Remove the custom ad blocker rule(s) and the page will load as expected.