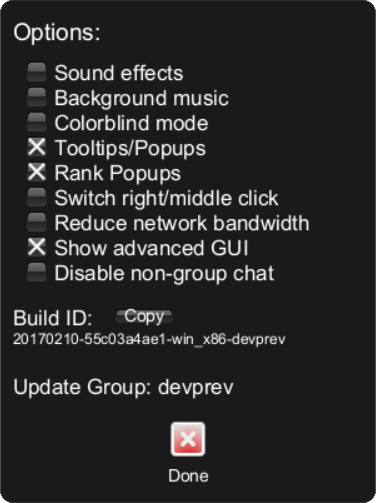 The general options menu contains several settings that affect the look-and-feel of Foldit. These options include:
Background music - a somewhat repetitive ambient soundtrack
Colorblind mode - a different set of colors for those with limited color vision
Switch right/middle click - option for left-handed mouse users
Reduce network bandwidth - may speed up certain operations over slow internet connections
Show advanced GUI - enables addition View Options, see Advanced GUI
Disable non-Group chat - limits chat to the player's group channel, intended for school groups playing Foldit
Most users turn off sound effects and background music, and enable the advanced GUI.
The general options menu also shows the build ID, which contains information about the version of Foldit being used. The "Copy" button copies the build ID to the clipboard, allowing it to be pasted into a Feedback.
The general options menu also shows the Update Group, which determines which updates the Foldit client receives.
Ad blocker interference detected!
Wikia is a free-to-use site that makes money from advertising. We have a modified experience for viewers using ad blockers

Wikia is not accessible if you've made further modifications. Remove the custom ad blocker rule(s) and the page will load as expected.