A disulfide bridge is formed when a sulfur atom from one
cysteine
forms a single covalent bond with a sulfur atom from a second cysteine in a different part of the protein. Disulfide bridges help to stabilize proteins, especially those secreted from cells. The presence of a pair of cysteines in a protein indicates the possibility (but not the requirement) of a disulfide bridge.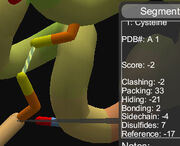 Unlike hydrogen bonds, disulfide bridges were not shown in early versions of Foldit. Some users noticed that manipulating Cysteine sidechains so that their ends pointed toward one another could yield points. The Foldit developers have confirmed that this effect was unrelated to the disulfide bridge. (See this discussion of a 2008 (?) visit to the Baker lab for more on early Foldit and its handling of disulfide bridges.)
Starting in January 2012, disulfide bridges were enabled in ALL puzzles by default.
To see disulfide bridges, select "Show bonds (sidechain)" in View options (V). (The "Show Advanced GUI" option must be selected under "General Options" to enable this View option.)
In many more recent Foldit puzzles, a scoring filter adds a bonus, typically 250 points, for each disulfide bridge formed.
At least three Foldit recipes work with disulfide bridges.
The recipe Tvdl enhanced DRW 2.8.1 contains special bridge checking-logic. If the recipe detects disulfide bridges when it starts, it offers an option to preserve any bridges. If a rebuild breaks an existing bridge, the recipe discards the rebuild results in favor of keeping the bridge intact. This bridge-checking logic does not seem necessary in cases where there's a filter bonus for bridges. A broken bridge would mean a loss of 250 points from the filter bonus, which should cause the rebuild to be rejected. Similarly, a gain of 250 points from a newly formed bridge should ensure that a rebuild will be retained.
The recipe TvdL DRemixW 3.0.0 contains the same bridge-checking logic as the DRW version.
The recipe Bridge Wiggle v 1.2.1 - Brow42 checks the distances of all cysteine segments in the puzzle. The closest pairs of cysteines within 4 Angstroms of each other are proposed at possible bridges. The user can change proposed pairings with different combinations and add in more distant cysteines. The "More" button allows the user to test the proposed pairings. The "Start!" button repeatedly tries to band and wiggle the cysteine pairs to form bridges.
More information can be found at http://en.wikipedia.org/wiki/Disulphide_bridge
Ad blocker interference detected!
Wikia is a free-to-use site that makes money from advertising. We have a modified experience for viewers using ad blockers

Wikia is not accessible if you've made further modifications. Remove the custom ad blocker rule(s) and the page will load as expected.