The "advanced GUI" is a set of features which are enabled by the "Show advanced GUI" checkbox in the General Options menu.
(The General Options menu appears under "Menu" in the original Foldit interface, and under "Main" (keyboard shortcut lowercase "p") in the selection interface.)
The advanced GUI adds many additional options to the View Options menu. The advanced GUI view options include many different "color" and "view protein" settings which visualize the protein in different ways.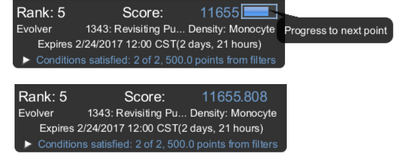 The advanced GUI also changes how the score is displayed, using decimal fractions instead of a progress bar.
See Game Interfaces for more.
Ad blocker interference detected!
Wikia is a free-to-use site that makes money from advertising. We have a modified experience for viewers using ad blockers

Wikia is not accessible if you've made further modifications. Remove the custom ad blocker rule(s) and the page will load as expected.